Discover a piece of heaven on earth—and be consumed by Divine Love.
---
We embark on a pilgrimage to a quiet life where we immerse ourselves in Christ's presence and, in the strength of the Spirit of Love, render adoration and contemplation, prayer and penance as service.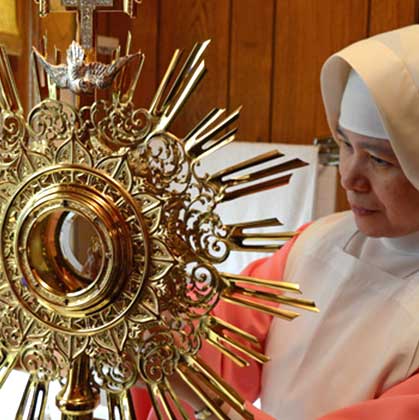 By Adoring our Lord in the Blessed Sacrament—we live in communion with Christ here on Earth.
---
Living in a community devoted entirely to Christ, we have been practicing the profound grace of Perpetual Adoration of the Blessed Sacrament in Philadelphia since 1915. There is no greater gift than to pray before the Real Presence.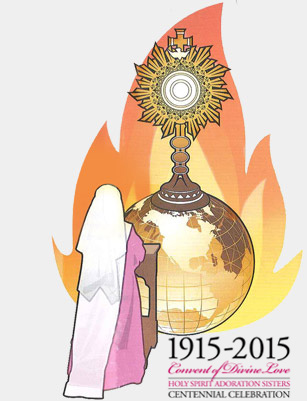 Celebrating 100 Years of Perpetual Eucharistic Adoration in Philadelphia. 1915-2015
---
This year marks the Centennial Anniversary of the Convent of Divine Love. Join us in Prayer and Adoration as we praise and thank our Lord for His faithful love and unending blessings.
Our hidden life is a prayer for the missions and an intercession for the world.
---
Our cloistered community fulfills the holy purpose of devoted contemplative and prayerful service to our world. By our consecration, simple lifestyle, and focusing solely on our Lord, we are committed to making each and every moment of our life a prayer that our Lord hears.
Our commitment to Christ each day is manifested in the way we entrust ourselves entirely to His Holy Will.
---
Striving to serve in the power of the Holy Spirit, we follow the Lord through a life of poverty, chastity, and obedience. It is through the living out of our vows and the faithful observance of our Holy Rule that we turn ourselves over to His Holy Will, which is Love itself.
A simple yes can change the world.
Are you being called by Divine Love?
Join Us in Prayer
and Adoration!
Chapel
6:30 a.m. to 6:00 p.m.
Holy Mass
Weekdays & Sunday
7:00 a.m.
Evening Prayer & Benediction
5:00 p.m.